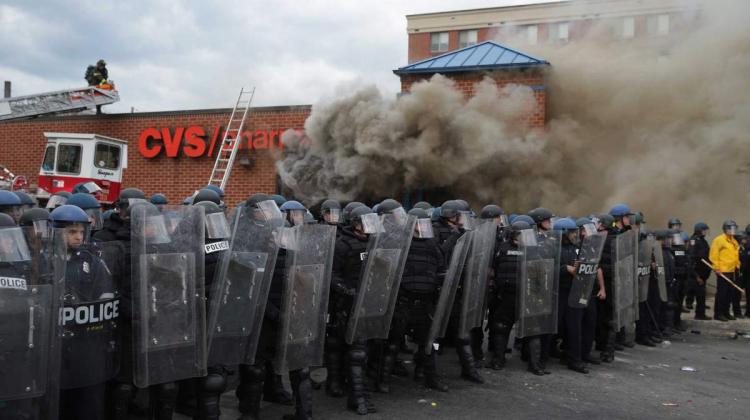 Lesson Outline
" Hard to believe this is going on, as I keep saying, in a major American city ... I don't remember seeing anything like this in the United States of America in a long time ..."

-- CNN Anchor Wolf Blitzer as violence erupts on the streets of Baltimore on April 25, 2015 
Cable TV news networks are a favorite target on Jon Stewart's "Daily Show," but Stewart seemed to have a field day savaging CNN's coverage of the unrest in Baltimore and anchor Wolf Blitzer's apparent failure to put what he was seeing in context.
"Elvis leading a herd of Orthodox Jewish unicorns through a city street, that would be hard to believe ..." Stewart said. "Ferguson was just a few months ago and you were talking about it!"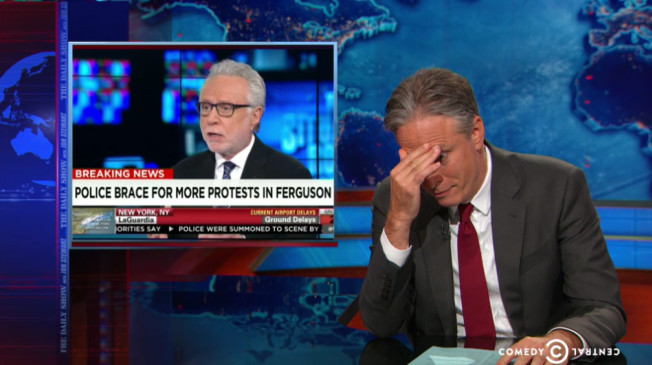 Fox's Geraldo Rivera didn't have things any easier, though, when he was confronted on the streets of Baltimore by a protester he dismissed as a "vandal."
"I want you and Fox News to get out of Baltimore city because you're not here reporting about the boarded up homes and the homeless people under MLK," said protester Kwame Rose. "You're not reporting about the poverty levels up and down North Avenue. But you're here for the black riots that happened." Though the exchange was not aired by Fox, a video has gone viral on YouTube.
As News Literacy teaches us, it's no surprise that TV producers prefer images of street violence over videos of peaceful protests or community efforts to improve a neighborhood — if it bleeds, it leads.  Still, the key question raised in both instances is whether the news coverage successfully put those compelling images into context.
"The mainstream coverage by Fox and CNN has been reprehensible," Peniel Joseph, founding director of the Center for the Study of Race and Democracy at Tufts University, told "On the Media" on NPR. "They feign surprise that this violence happened in Baltimore even though Ferguson was the news story of 2014." Like the unrest in Ferguson, Missouri, protests in Baltimore were sparked by the death of a young black man following a confronation with police.
On Fox, news anchor Shepard Smith found himself alone as he challenged colleagues' on-air conclusions that the protesters' families and civil rights leaders were to blame for the unrest. "We've got a major American city that has decades of turmoil within this neighborhood," Smith said, "It's what happened between all of that and today that has led to this. There is no escaping that reality."
Why is context so important here?
"Well the optics really disassociate the rage that you're seeing and the violence and the desperation from the historical context that produced it," Joseph told NPR. "So from the perspective of the average, white, middle American viewer who doesn't know really anything about African American history, who might have not been alive during the 1960s, doesn't remember the upheavals, it just seems like this is just wanton violence and anarchy, from young black thugs, which is what the media has described the rioters as."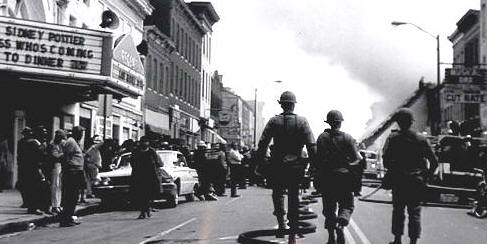 It's the difference, NPR's Karen Grigsby Bates suggested in a look at the language being used in the coverage of Baltimore, between a riot and an uprising. "It's no surprise that people can't agree on a label for what's happening in Baltimore," she reported. "There was little agreement about what to call Ferguson, too."
On the whole, both CNN and MSNBC did a good job of putting the violence in context, said Baltimore Sun media critic David Zurawik in a Fox interview.
"CNN was there five days before the first violence on Saturday April 25," Zurawik said. "And they were doing shows from there: Brooke Baldwin was hosting shows out of there. So they don't just chase the violence — was there more after the violence, absolutely. Here's the thing. Out of this week, if nothing else, we've had a much better look at the causes of civil unrest in this country. The statistics that have come out about West Baltimore and the lack of jobs and all of that, and we have seen some of the protesters."
Zurawik, however, had nothing but criticism for CNN's decision to cut away from its coverage of Baltimore unrest to go to the red carpet of the White House Correspondents Dinner -- a reminder that TV news exists in an entertainment medium where celebrity sightings trump even violence in the streets.
"I couldn't believe that CNN couldn't do a cut-in, this exercise of black-tie narcissism while a city is on the edge," Zurawick said. "I'm still waiting for a CNN executive to tell me who made that decision." The network's suggestion that viewers more interested in what was happening in Baltimore should turn to Twitter became a prime target for disparaging tweets.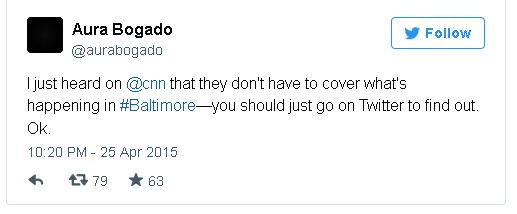 Not to mention Jon Stewart's barbs: "To be clear, a guy on CNN just said 'Hey, if people are looking for news, I'm sure they can find it somewhere.' It would be like Google going 'What's your question? I don't know, just look it up yourself, I'm busy.' "
---
Questions for Classroom Discussion
1. Should Geraldo Rivera have broadcast his exchange with protester Kwame Rose? Why or why not?
2, Should news reports from Baltimore have characterized the street violence there as a "riot" or an "uprising" or "rebellion"? What's the difference?
3. Was the criticism of CNN's coverage fair? Why or why not?