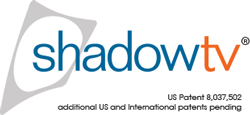 How in the world did they find that "Fox News" clip?
How do they know how many times CNN mentioned Sarah Palin's name last month?
The Shadow knows – ShadowTV, that is.
ShadowTV, a service you can access through the Digital Resource Center, is one of the media industry's secret weapons. And the same service that enables programs like Comedy Central's "The Daily Show" to find specific video clips from TV reports can help you teach News Literacy.
Sure, the Digital Resource Center offers a rich archive of video examples from recent years. But maybe you were watching the news last night and saw a fresh clip that would be perfect for your classroom discussion on deconstructing a TV news report. You can find and access it through our partnership with ShadowTV, a digital, broadcast monitoring and media service that boasts the largest video archive in the industry.

Using ShadowTV
ShadowTV service covers most local television and cable news broadcasts. 
How does it work? Here's a step by step look at making a ShadowTV Request
Ready to start? Here's the  ShadowTV Service Request Form .